Atlantic Vacuflo has been serving Atlantic Canadians since 1984. The company was founded to provide Best in Class solutions to both our residential and commercial clients. Drawing on decades of experience, Atlantic Vacuflo is ready to work with you to provide guidance and ensure you get a system that is right for your needs.
Our customer service, combined with our pricing, is unmatched by any competitor.
Our clients love our personalized treatment; it keeps them coming back each time a new issue arises. Our clients are like our family, we look forward to welcoming you.
There are many unique benefits to owning a Vacuflo Central Vacuum System!
Quality products, great service and a trusted name in the industry since 1948, and it's all backed by the industry's most comprehensive Lifetime Limited Warranty. Atlantic Vacuflo takes this industry leading warranty a step further with our 110% money back guarantee!!
100% of all vacuumed dirt, allergens and odors are removed 100% of the time! Exclusive patented Cyclonic Filtration Technology® provides maximum power, filtration, and consistent cleaning performance every time you vacuum.
Powerful cleaning performance improves indoor air quality, creating a healthier home environment for your family. Vacuflo eliminates the re-circulation of dirt, dust and odors, which is perfect for families with allergy and asthma sufferers, or pets.
Convenient whole-house cleaning with just one simple system. Vacuflo has the widest selection of accessories specifically designed to clean all interior surfaces, floorings, carpets, furnishings and window treatments – ideal for garages, campers and boats too! No heavy equipment to lug around, just insert the hose into the closest inlet valve for fast and easy cleaning.
With an extensive product line, Vacuflo can match the right system to any home size, home design or budget.
Quieter than a clothes dryer, Vacuflo provides the quietest cleaning power in the market.
The lightweight and durable ABS dirt bucket has a comfort-grip bottom for easy handling. Plus with a large, 6-gallon dirt bucket capacity, you'll empty it less frequently, and it's clear so you can see when you need to do it.
We offer the Hide-A-Hose Retractable Hose Management System, the most convenient innovation in the central vacuum industry, as well as Vroom and Spot the quick-clean vacuum accessories for easy clean-ups.
A Vacuflo Central Vacuum adds resale value to your home, extends the life of carpets and furnishings, saves time and improves your indoor air quality.
A central vacuum cleaner offers numerous benefits over a traditional portable vacuum cleaner. Before you buy another portable vacuum cleaner, take a look at the benefits of central vacuums.
Greater Cleaning Power
Because of its powerful motor and large air flow, central vacuums pick up deep down dirt, dust and debris, even microscopic particles like pollen, mold spores and dust mites. Central vacuums like Vacuflo eliminate all those dust particles you see in the air after vacuuming with a portable as well as that familiar "vacuum smell." Unlike a traditional vacuum cleaner, which re-circulates into the air some of the dirt and particles it picks up, a Vacuflo central vacuum removes 100% of all vacuumed dirt, particles and allergens from the home.
Improved Indoor Air Quality
Because 100% of vacuumed air is removed from the home, indoor air quality is significantly improved. In fact, the University of California Davis School of Medicine found that allergy sufferers' symptoms can be improved up to 61% when using a central vacuum system.
Quiet Operation
Because the noise from the system is generated in an out-of-the-way area, vacuuming with a central vac system makes less noise than a hairdryer or clothes dryer. Quiet enough to vacuum in the same room as a sleeping child!
Increase in Home Value
A central vacuum can increase resale value of a home by $1500 or more. Like other built-in appliances, it is an excellent selling feature.
Easy Installation
Both new and existing homes can be easily fitted with a central vacuum system. Professional installers can complete the job in almost any home in a matter of hours.
Cost
A complete central vacuum system can be professionally installed in the average home for less than the cost of many high-end, name-brand portable vacuum cleaners. Because it will provide powerful cleaning for a decade or more, a central vacuum system is more of a wise consumer bargain than a luxury.
Convenience and Ease of Cleaning
No heavy equipment to lug around, no cords to trip over or catch on furniture, no clunky unit nicking the furniture and woodwork as you move from room to room. Lightweight hoses and attachments are easy to carry. Convenient outlets placed to your specifications allow quick and efficient cleaning. Quick-clean accessories like Vroom and Spot provide instant access to vacuum power for life's daily messes!
Creating a clean and healthy home environment for your family is important.
Many people take their home's air for granted and assume it is safe, clean and breathable. The problem is, indoor air can be up to 100 times more polluted than outdoor air! Several reasons for this increase include today's more tightly sealed housing construction, synthetic building materials and furnishings, and chemically formulated household products.
Most people spend 90% of their time indoors.
Poor indoor air quality can affect health, safety and comfort – especially in children and the elderly. With powerful motors and no recirculation of particles, Vacuflo central vacuums eliminate 100% of vacuumed dirt, dust and allergens, creating a healthier home with cleaner indoor air.
Today's environmentally conscious homeowners are demanding and getting improved energy efficiency, better indoor air quality and smarter use of building materials. These "green" building initiatives not only protect the environment, but also improve comfort and boost home value. Vacuflo Central Vacuum Systems have a unique role to play in "green" homes. By removing 100% of vacuumed dirt and dust, they ensure healthy indoor air and reduce the discomfort of allergy sufferers by more than 60%. Vacuflo Systems also offer these benefits: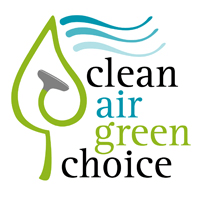 Improved Indoor Air Quality
Vacuflo Central Vacuum Systems can help improve indoor air quality by capturing 100% of all vacuumed dirt, dust and allergens with no recirculation of particles back into the living area.
All you discard is the dust
Unlike uprights, which are often discarded after only a few years, Vacuflo Central Vacuum Systems keep up worry-free cleaning for decades. A Limited Lifetime Warranty ensures it.
No additional electricity
Vacuflo offers turbine-powered powerheads. Turbines run off the airflow of your central vacuum system so they require no additional electricity to operate.
Say NO to noise pollution
Vacuflo features sound-dampening designs that keep homes peacefully quiet. There's never been a quieter, more powerful combination than Vacuflo Central Vacuum Systems and Turbine Powerheads.